Name and Format: Basma Raw (Blendfeel) – Concentrated flavour 10 ml – received by the manufacturer

Batch:18441233100001
Nico: 4 mg/ml
Declared Base: 48 PG / 48 VG / 4 H2O
Expiry date: 02-04-2020
Devices: Innokin proton 235W + ExVape Expromizer RTA V3 Fire single coil 0.95 ohm (Ni 80 28AWG 0,32mm) with Cotton Bacon Prime.
---
Within the market niche related to natural tobacco extracts, over the past three and a half years, this kind of flavors and e-liquids has increased dramatically, with much of the merit to be attributed to Italian companies, always the most undisputed protagonists in this type of production, the manufacture of the so-called N.E.T. At think about it, only a few years ago, the proposal of "organic" tobacco e-liquids was very narrow and limited to a few types of tobacco; today, especially thanks to our manufacturers, it is possible to range between a considerable number of varieties of tobaccos, tobacco blends and tobacco flavored e-juices.
This is for example the case of Basma tobacco, which I am about to deal with, almost unknown to most vapers until not so long ago. For today's review I will try the Basma Raw by the "Aroma  di Tabacco" line by Blendfeel company, line among other things, just awarded by our team as the best line of natural tobaccos in 2018.
Basma tobacco is a sun cured Oriental tobacco that is produced in northern Greece, southern Bulgaria and also southern Macedonia. The Greek Basma is considered the best of the three, has small leaves and its aroma is sweet, aromatic and very spicy. Its excellent aromatic qualities make it the finest of all oriental tobaccos.
We remind you that the "Aroma di tabacco" line has a total of twenty-four flavors in amber glass bottles containing 10 ml of pure tobacco extract in propylene glycol. Rich with information are vintage labels that recall old parchments and yellowed maps. Blendfeel as always proves exemplary in providing the buyer with 360 degrees clarity on what he is buying. Example to follow.
Blendfeel describes us the Basma Raw aroma:
Un viaggio nella storia alle radici del mondo. La ricchezza aromatica del Basma greco esplode in sentori orientaleggianti e speziati fusi insieme in uno tra i tabacchi più pregiati.

A journey through history to the roots of the world. The aromatic richness of the Greek Basma explodes in oriental and spicy hints merged together in one of the finest tobaccos.
SMELL TEST
Basma Raw does not show particularly pronounced aromatic qualities. From the e-liquid bottle prepared by me, delicate sweet nuances emerge in a slightly spicy and citrus vegetable frame. I decide to linger on the smell test, holding my attention and my nose in the direction of the concentrated flavour bottle.
The fragrance is obviously much more marked but I can still identify a vibrant note of raw tobacco accompanied by a pinch of acidity. I do not escape assonance with the scents that are released in the opening of a good package of shredded tobacco.
Also for the vape test today, I decided to rely on, as in previous occasions, the good Expromizer V3 Fire on which I realized a Nickel Chrome (Ni80) coil of about 1 ohm.
VAPE TEST
Basma Raw puff has rich top notes and high sugar content. The sweet note is accompanied by a good savory taste, which characterizes the puff in inspiration. The first puffs leave on the palate a pale memory of some Virginia's timbre, the more structured ones, such as a Red Virginia, but the tones are decidedly more vigorous and with shady features.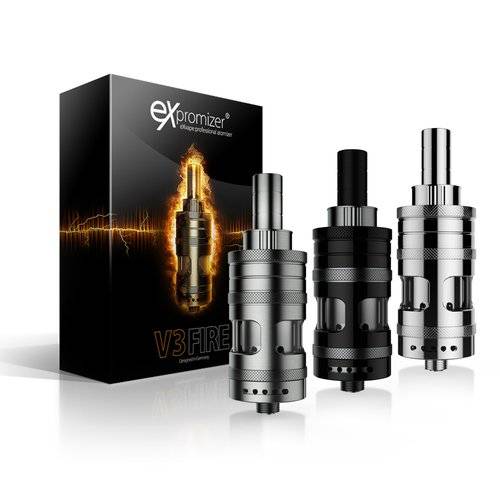 In the heart of the puff, this tobacco stands out for its complex aromatic structure, from which spicy and oriental scents emerge with a certain swagger. The sugar charge does not dissolve and this gives me a feeling of fullness of taste very pronounced. From the back I now perceive citrus veils of cedar, which slowly creep inside the bouquet, almost debating with the sweet rhythms imposed by the high content of sugars present in the leaves of the Basma.
A vortex of spices embraces the whole aromatic plant of the e-liquid, intoxicating oriental fragrances with nuances of tea deliver me virtually to Basma Raw's tail notes. In closing, the puff presents a change of scenery on the palate. The background now appears darker and more earthy with hints of raw tobacco that alternate with notes of treated leather, giving a more masculine character to e-liquid.
Basma Raw is an aristocratic fusion of aromas and flavors of the Orient with energetic, almost cheeky tobacco accents. It is a very complex e-liquid with a suggestive sweet background. It is evident that these characteristics, together with the fact that they are not particularly coil friendly, do not make it the classic all-day tobacco.
Taste it for some short and intense moments, it will captivate you for the perfect combination of its intense character and its sweet aromatic harmony.
—
Suggested dilution: 6-10%
Steeping time: ready to vape, suggested 10/15 gg
Pro: Complex aroma and excellently extracted. Faceted, aromatic and spicy.
Cons: So much faceted in the vaping how little ductile on the atomizers: not easy to choose the right one.