Name and Format: Bitter Fruit (DKS) Con Garbo line – Propylene glycol aroma 20 ml – received by the manufacturer

Batch: D0052
Nico: 3 mg/ml
VPG composition: 50 PG / 50 VG
Expiry date: 10/2021
Devices: Kizoku Limit RTA single coil 0.95 ohm (Kanthal A1 28 AWG) + Innokin Ares 2 RTA 24 mm single coil 0.9 ohm (Khantal A1 27 AWG) with Cotton Bacon Prime.
---
A few weeks ago my friend Filippo Garbo, the creator and the administrator of the youtube channel and facebook group "Svapo e Musica Club", during a long and pleasant chat, told me about his collaboration with the historic e-liquid manufacturing company DKS, revealing the birth of a line of tobacco flavored aromas with a simple but very effective name: "Con Garbo". Filippo is one of the most genuine and outspoken characters I know within the increasingly talked panorama of italian vaping, actually in my view, more and more stuffed with real official testimonials of production brands under lies spoils of vape youtubers and influencers expert and absolutely intact. I would like the Italian vape system to be richer in personalities like Filippo Garbo, a sincere vape enthusiast and a great lover of extracted tobaccos. And since among lovers of extracted tobaccos we understand each other with closed eyes, when Filippo asked me to taste its creations, I accepted with great pleasure, quite intrigued by its aromas.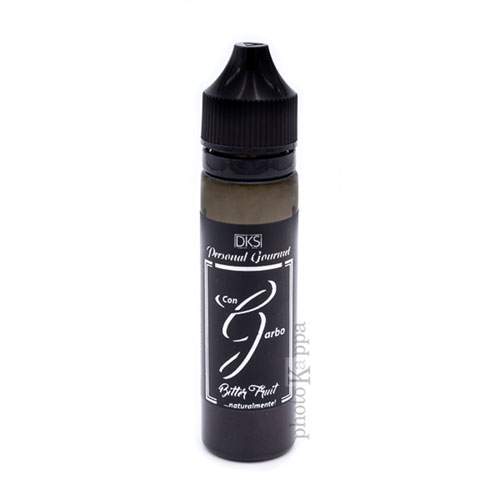 The "Con Garbo" line consists of four flavored tobacco extracts that all share a Kentucky tobacco base and have been baptized, but it could not be otherwise, with names of musical tracks: Bitter Fruit, Sweet Dreams, Pensiero stupendo and Romeo & Juliet. The four "Con Garbo" are offered in the popular shot format of 20 ml of propylene glycol flavoring inside a 60 ml chubby gorilla. To obtain a ready to vape e-liquid in VPG 50/50 concentration, you hate to add to the aroma, 30 ml of vegetable glycerol and a further 10 ml of propylene glycol .
The first of the four flavors I have decided to try for you is Bitter Fruit, officially described as follows:
Scoprirete, con la maturazione, due aromi ben distinti. Dopo pochi minuti dalla miscelazione, sono i sentori erbosi e balsamici ad arricchire un Kentucky rafforzato dalla potenza del Latakya. Trascorse circa due settimane, invece, lo storico amaro fernét sarà il sottofondo dell'esplosione dei due tabacchi e l'aroma godrà di note di spezie, di legno e di cenere. Un blend che sarà il vostro miglior alleato dopo i pasti più goderecci!

You will discover, with the maturation, two very distinct aromas. A few minutes after mixing, it is the grassy and balsamic scents that enrich a Kentucky strengthened by the power of Latakya. After about two weeks, however, the historic amaro fernét will be the background of the explosion of the two tobaccos and the aroma will enjoy notes of spices, wood and ash. A blend that will be your best ally after the most enjoyable meals!
SMELL TEST
On the smell Bitter Fruit, with a truly unparalleled fidelity, indisputably smells of Fernet Branca; it is identical to Fernet, it is Fernet. I care about what has just been said, because I don't want this total loyalty to the well-known Italian liqueur to take second place in the analysis and evaluation of this aroma. Perhaps many of you do not know that today the recipe of Fernet Branca (produced since 1845) is only partially revealed and not all the 27 herbs, spices and roots that compose it are known. So how is it possible that DKS and Garbo managed to return exactly the smell so intensely stimulating that characterizes the famous Italian digestive? Obviously I could not fail to ask this question to Filippo who, sly and with a more eloquent smile than ever said to me: "we will reveal it when Fratelli Branca Distillerie makes its recipe public".
I continue with the smell analysis of Bitter Fruit (for curiosity lovers, the name is taken from the song of the same name by the artist Little Steven) and I realize that the intemperance of herbal smells attributable to Fernet, rightfully dominates the tobacco component mentioned in the description that in this test is practically absent.
I trust in the vape test to be able to perceive the tobacco elements inside the large bouquet and therefore for the vape test I decided to use two very good atomizer for this kind of e-juice: the Kizoku Limit RTA and the Ares 2 by Innokin.
VAPE TEST
Tell the truth, how many of you have counted DKS to date among the top tobacco extracts manufacturers? I honestly believe few and I certainly wasn't among them, at least until I started vaping this Bitter Fruit… Bewitching and effervescent from the first puff, in inspiration Bitter Fruit presents in the foreground an infusion of spicy and medicinal herbs that capture the palate. Gentian, lime, cinnamon, chamomile, orange, rhubarb, cardamom, aloe, saffron and even myrrh are just some of the ingredients that contribute to forming what has been considered a real healing elixir for 175 years.
In the same way, Bitter Fruit has top notes that are very reminiscent of Fernet Branca and conquers me precisely for its decisive and bitter taste, deeply dark and spicy, with an almost scorched flavor that is combined with subtle licorice-based inserts. The sensation is that of vaping a decoction of medicinal herbs that seem to intersect under the common denominator of an overbearing aromatic charge. In the central phases of the puff, hints of wood and barrel appear inside the bouquet, and seem to support it making it even more robust. Leather glazes and a discreet smoky scent reveal the tobacco presence of Kentucky at first, and later of Latakia, whose incensed nuances are lost or rather blend with the herbal extracts of the liqueur.
The tobacco value of Bitter Fruit is directly proportional to the steeping period that will be granted to the aroma after being diluted: more Fernet Branca if vaped immediately, more tobacco if tasted after about ten days. Still great. To you the choice.
In the tail and precisely in exhalation, the score of the creation signed by DKS and Garbo returns to veer towards a more complex melody, re-proposing as protagonists the most herbaceous hints of the mix, which however are able to expertly drag that barrel wood flavor oak that has received all the ingredients, leaving them to rest and ferment. An aromatic gem to be appreciated with your eyes closed at the end of each puff.
Intense, decisive, deep and sophisticated, created with care, quality, mastery and above all with Garbo…
—
Suggested dilution: 33%
Steeping time: ready to vape, recommended 7-10 days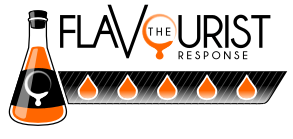 Pro: DKS gives us an aromatic pearl, an adamantine e-juice.

Cons: –