Name: MaxPod (FreeMax) – Pod Mod – received by the manufacturer

Type: Pod Mod Kit
Colors: Black, Blue, Red, White, Green, Yellow
Price: ~ € 28
---
MaxPod the entry level pod mod proposed by FreeMax
Today I have in my hands the first real pod mod designed by FreeMax, an historic vaping Chinese manufacturer since 2013. The device is called MaxPod and is aimed primarily at an audience of beginner users. As usual, I start by presenting the contents of the package in my possession.
IN THE BOX
1 x FreeMax Max Pod battery
1 x FreeMax Max Pod (NS mesh coil 1.0 ohm pre-installed)
1 x FreeMax NS mesh coil 1.5 ohm
1 x USB cable
1 x FreeMax Max Pod lanyard ring
1 x FreeMax Max Pod lanyard
1 x User manual
1 x Warranty card
1 x Warning card
DESIGN AND BUILD QUALITY
Also due to the yellow color, FreeMax's MaxPod has the appearance of a classic marker pen with a rather elongated line. From a building point of view, the MaxPod appears to be a very robust product and the materials with which it was built testify this quality: stainless steel and zinc alloy plus an external plastic coating. The casing is made using IML (In Mould Labeling) technology which consists in creating different layers encased in a transparent laminate coating. In my opinion the use of a steel frame to set the central zinc alloy body does not contribute to making the pod mod design so modern beautiful among many pod systems on the market. Aesthetically I have the feeling that the manufacturer decided to stick to a traditional line, designing the MaxPod according to a classic and consolidated standard for this type of device. Anyway FreeMax MaxPod is a pod system with a shape able to guarantee easy handling and portability. In my humble opinion, however, the aesthetics of the device is a bit obsolete and dated as well as it's a device so angular and accentuated corners in the hands.
Even the docking of the pod on the mod made with two solid magnets, does not prevent the pod itself from having a slight lateral play and a minimum glimmer of light between the pod and the battery.
FEATURES
MaxPod measures 101 x 22 x 14 mm and weighs about 56.5 g which does not place it among the lightest pod systems on the market. The cartridge, made of PCTG, has a capacity of 2 ml and can be equipped with two types of coils: NS mesh coil 1.0 ohm and NS mesh coil 1.5 ohm.
The mod has an integrated 550 mAh battery which at first glance would seem a bit undersized compared to current scetor standards; but, in consideration of the coil impedances and the fixed voltage at 3.3 volts, MaxPod has a very low battery consumption (the output power is 7.3 watts with the 1.5 ohm head coiland 11 watts with the 1,0 ohm coil).
This device has on the front a small LED light and does not have any button as it is equipped with automatic draw. The indicator light lights up during each puff to indicate the residual battery level: white light for a charge between 100% and 71%, green light 70% -31% and finally red light 30% -1% (these data have been taken from the manufacturer's website and differ slightly from those indicated on the user manual in the packaging).
On this device there are some important protection functions for the user: short circuit protection, overcharge protection, low voltage protection, overtime protection (8 seconds cut-off) and over discharge protection protection.
The 550 mAh battery guarantees a good autonomy on vape (about 4-5 ml of e-liquid) and above all it allows a very fast complete recharge of only about 30 minutes (even if this mod doesn't have a USB type-C port).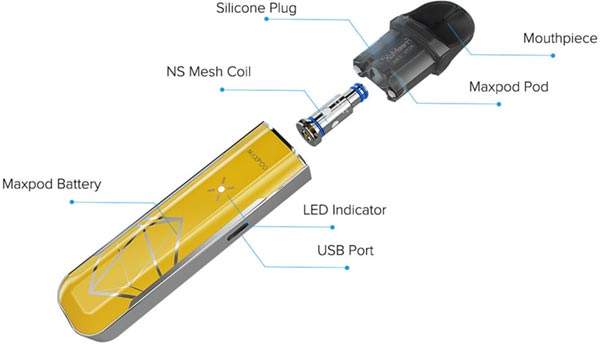 COILING, WICKING AND FILLING
Replacing the coil and refilling the pod are the only operations required of the user for this device, and these are very simple operations. The head coils have been made with the plug&play system and are a simple push in fit in the base of the pod thanks to three o-rings. Filling the cartridge is quite simple: you have to remove the silicone cap placed on the side and then insert your bottle. Thi filling porta is large enough and you will not have any airlock issues. The smoked finish color cartridge allows you to easily check the level of e-liquid loading.
PERFORMANCES AND FLAVOUR
In my opinion, the aromatic performances of the MaxPod are not on the same level as other competing devices. In generale the aromaticity appears subdued with both coils; especially with more structured and complex e-liquid recipes, the aromatic yield tends to be a little flat, revealing the difficulty of this system in being able to better capture all the nuances of an e-liquid. It's a shame because on the other hand the MaxPod draw (slightly airy MTL with non-adjustable airflow) is very well calibrated, always linear and silent and the pod is always clean.
TO CONCLUDE
MaxPod is a device expressly indicated for those who are going to start vaping by purchasing their first e-cig. It is an absolutely entry level system and without huge demands. As a first purchase it can be a product to be taken into consideration, were it not for a quality/price ratio not among the best, at least for what concerns the Italian market.
—
Recommended to: newbies vapers.
In the Box -

8.5/10

Design & Build Quality -

6.5/10

Features -

6.5/10

Coiling, Wicking and Filling -

10/10

Performances and Flavour -

7/10
---
In the Box -

8.5/10

Design & Build Quality -

6.5/10

Features -

6.5/10

Coiling, Wicking and Filling -

10/10

Performances and Flavour -

7/10