Name and Format: Tuscan Blend (Blendfeel) – concentrated flavour 10 ml – received by the manufacturer

Batch: 18441236100001
Nico: 4 mg/ml
Declared base: 50 PG / 50VG
Expiry date: 05-15-2020
Devices: Innokin Proton 235W + ExVape Expromizer RTA V3 Fire single coil 0.9 ohm (Ni 80 28 AWG 0,32mm) with Cotton Bacon Prime.
---
In a cold and rainy autumn afternoon, just after twilight, accompanied by the faint light of an oil lamp, the captain of the sailing ship Blendfeel descends into his precious hold where the tobaccos collected in his journey lie well preserved in solid oak barrels intercontinental. An absorbed look at those precious goods before heading off to a wooden furniture strictly under the key that preserves some glass bottles. He picks up one that shows an old label with the inscription: Tuscan Blend.
If we were in the seventeenth century, this would be the ideal scenic setting to introduce the tobacco extract that will be the subject of our current review. We have recently dealt with two extracts based on Kentucky (Kentucky Reserve e di Hell's Key) and today we conclude with the last of the structured blends on this precious tobacco: the Tuscan Blend.
We remind you that the "Aroma di tabacco" line has a total of twenty flavors in amber glass bottles containing 10 ml of pure tobacco extract in propylene glycol. Rich with information are vintage labels that recall old parchments and yellowed maps. Blendfeel as always proves exemplary in providing the buyer with 360 degrees clarity on what he is buying. Example to follow.
Blendfeel describes us the Tuscan Blend aroma:
From the Grand Duchy of Tuscany a small distraction drowned the rough leaves of our local Kentucky and gave rise to the famous cigar, here embellished with smoky notes of Latakia
On the nose Tuscan Blend presents the typical nuances of a fire-cured tobacco. One senses that it is a rude and decisive aroma, with light hints of leather wrapped in a discrete smoked frame. The base tabaccosa is obviously dry and woody and as you can easily imagine, it promises to be a vaping intended exclusively for lovers of dark tobaccos, because we are faced with an e-liquid that is not born to be an all day but on the contrary to be used in short and intimate moments of the day, preferably after dinner and flanked by some good vintage whiskey.
Also for today's vape test, I decided to rely on the very reliable Expromizer V3 Fire, on which I realized a nickel resistance of about 1 ohm.
The breath in inspiration appears without frills and also particularly woody. Like his brothers Kentucky Reserve and Hell's Key, even the third King of this regal three of Kappa shows himself dark and intense. Its firm dryness tickles the nostrils and palate and provides an analogue sensation like few others.
Boccata after mouth, Tuscan Blend always maintains its stability and incisiveness and does not mention minimizing to round off, perhaps favoring the entry of some new aromatic nuances.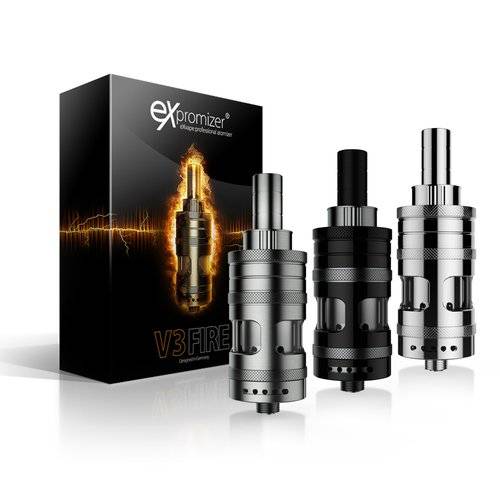 It is this characteristic that seems to be its main difference compared to the Kentucky blends tested in the past weeks. The sense of dry-woody accompanied by thin peppery veils, governs undisturbed in all phases of the breath.
The smaller aromatic spectrum compared to Kentucky Reserve and Hell's Key, reduces its tasting value, making it in a sense a less elitist aroma than you could imagine. His aromatic "poverty" turns it into a rewarding dark tobacco from prolonged consumption.
As the expiration phase approaches, light smoky and vaguely sweet notes creep on the palate, making the mouthfulness softer by dampening the woody timbre of the bouquet for a moment.
It is the contribution of the latakia tobacco which, with a minimum dosage, completes the Tuscan Blend aromatic score. Of this latakia you do not notice its most typical spicy and incense nuances but just the smoked component in support of the already dark kentucky.
In expiration then together with the notes of burnt wood emerge timid and blurred hints of manure that remind us of the primary matrix of this aroma. A weak, piquant aromatic persistence, seals the sensation of being in front of an aroma that, contrary to what was hypothesized during the olfactory test, lends itself very well to being vaped for the whole day thanks to its moderate aggressiveness towards the coil.
—
Suggested dilution: 8–12%
Steeping time: ready to vape, suggested 10/15 gg
Pro: If you love dry and woody tobaccos, this is ideally perfect to be vaped as an all day.
Cons: Offers less aromatic nuances than its brothers Kentucky Reserve and Hell's Ke