Vaporesso Luxe Q – review
Today we return to talk to you about the well-known Chinese manufacturer Vaporesso that at the beginning of 2021 presented a new pod mod designed essentially for a public of new vapers or even better for those who decided to buy their first e-cig. The new Vaporesso creation is called Luxe Q and joins other products of the Luxe series by the company from the Shenzen district.
Before starting with our review, let's look as always at the main features of the product and the contents of the package.
VAPORESSO LUXE Q FEATURES AND BOX
FEATURES
Name: Luxe Q (Vaporesso)

Format: Pod Mod con batteria integrata 1000 mAh
Max Power: n.d
Colors:  Green, Red, Black, Brown, Blue, White, Pink
Price: ~ € 30
BOX
1 x Luxe Q Battery
1 x Luxe Q 0,8 ohm Mesh Pod
1 x Luxe Q 1,2 ohm Mesh Pod
1 x Type-C USB cable
1 x User manual
1 x Warranty card
DESIGN AND BUILD QUALITY
Since many years Vaporesso has accustomed us to vape systems which, despite being placed in a medium-low market range, are always very accurate in their design and with a construction quality that is decidedly above the market average. Even in the case of the Luxe Q, it is possible to immediately notice how this device, even with a relatively classic line, is equipped with a modern, refined and captivating design, as well as a truly enviable build quality.
In short, Vaporesso does not contradict itself and confirms all the good things that have been said for years about its products, both from a purely aesthetic and qualitative point of view. Very appreciable in this case is the crocodile imitation leather texture that facilitates grip thanks to its slightly rubberized non-slip material.
ERGONOMICS AND PORTABILITY
The Luxe Q was born as mentioned at the beginning of our review to be a vape system for newbies or even the first device ever to buy for all those who decided to abandon traditional smoking and switch to the electronic cigarette. This pod mod stands just under 92mm tall, 26mm wide and 16.5mm thick, all in an overall weight of just 57 grams.
From these numbers it is easy to understand how the Luxe Q is a product that makes handling and portability its strongest point, on the other hand it is what an entry level user asks most. In addition, thanks to its simple line and the imitation leather texture, the pod mod has more than good ergonomics and is held very comfortably in the hand.
LUXE Q FUNCTIONS AND PERFORMANCES
The Luxe Q is a very easy device to use, it can be defined as a simple filling and vape device. This pod mod in fact doesn't have fire button as well as additional functions; the only possible intervention on the Luxe Q is a minimum adjustment of the airflow (two possible combinations) whose flow can be modified by rotating the direction of the pod insertion on the battery. The pod fits itself onto the battery simply by pressing it, just as to remove it, simply grab and pull it.
The draw is automatic and in our opinion it is very reactive even if gradual in providing power to the coil. In short, instantaneous but with a progressive delivery. The integrated 1000 mAh battery guarantees a good autonomy in vaping, but it will be difficult to overcome half a day without having to recharge. In terms of e-liquid, the Luxe Q can guarantee an autonomy of about 4 milliliters. Charging thanks to the 1A USB type-C port is completed in about 60 minutes, which is an acceptable waiting time even if not among the fastest in the field of pod systems.
The presence of a small LED on one of the two sides of the battery helps to know the residual charge level of the battery:
Green Light: battery between 100-70%;
Blue Light: battery between 70-30%;
Red Light: battery between 30-0%.
Finally, this device does not lack the most classic protection functions that all the most common vape systems are now equipped with, from short circuit protection, through low voltage protection and continuing with the canonical protections for too high a charge or too low charge. A pod mod, simple, essential but at the same time complete.
EASE OF USE
There is very little to say about the ease of use of the Luxe Q as this type of systems with automatic power and total absence of buttons or adjustment functions, are by far the easiest systems for a new user who, after having refilled the cartridge with his favorite e-liquid, will be able to vape freely by sucking from the mouthpiece of the device, worrying only about recharging the battery once it is discharged. Easier than that…
LUXE Q POD and AROMA
The Luxe Q comes with two supplied pods (2ml capacity) that clip onto the mod simply by pressing them in. The Luxe Q pods are both mesh with built-in and non-replaceable 0.8 ohm and 1.2 ohm coils. When the life cycle of the coil is exhausted, the entire pod will have to be replaced.
The refill of the e-liquid inside the pod is carried out exactly as for the Luxe PM40 pods, ie without removing the pod from the battery; in fact, it is sufficient to push the black drip tip back to remove it and discover a large filling hole suitable for any type of bottle. The presence of a small vent hole facilitates the filling operation and the transparency of the pod allows you to check the e-liquid level.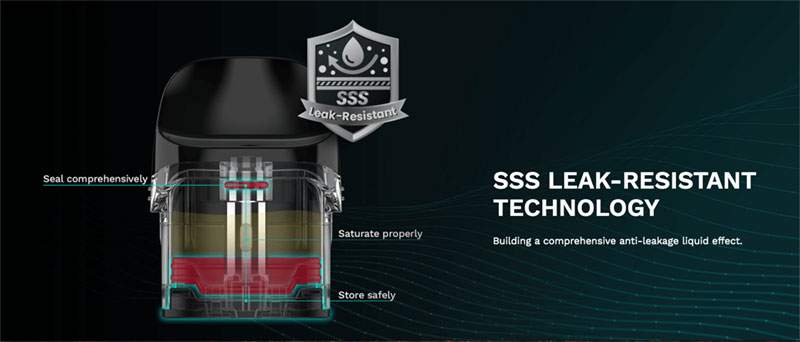 Another interesting element to highlight is the new anti-liquid leakage system, which the manufacturer has called "SSS leak resistant technology" and which consists of a triple combination of systems that prevent accidental leaks of liquid, essentially the evolution of the system "e-liquid self-circulation system "already successfully introduced on the LUXE PM40.
And what about the aromatic performances of the two mesh pods? Having said that both pods have been designed for a (slightly airy) MTL vape and that the two airflow options differ very little from each other, the aromatic performance provided by the Luxe Q is in our opinion more than satisfactory, top of the range in this increasingly crowded market segment. These mesh coils are almost identical in terms of aromatic restitution to the more than popular GTX coils found on the Luxe PM40 and other Vaporesso systems.
The draw is always very clean and linear and sufficiently silent is combined with a truly enviable amplitude and aromatic yield. The vapor is full-bodied but not excessively fat and this means that this pod mod, although not able to offer a very tight MTL vape, also lends itself quite well to both synthetic and organic distillate tobacco e-liquids, very successful at moment in our country.
VAPORESSO LUXE Q FINAL VERDICT
Luxe Q the new pod mod by Vaporesso is an ideal product for beginner vapers or for those looking for the first e-cig to buy. We have no doubts about it and according to our team, the Luxe Q by Vaporesso offers new vapers the opportunity to vape with extreme simplicity and maximum satisfaction. Highly recommended product but if you are looking for a product with more power and autonomy then you should look at THIS VERY INTERESTING E-CIG …
—–
Suggested to: Newbies vapers.
---
THE FLAVOURIST RESPONSE
Luxe Q Features & Box -

7.5/10

Design & Build Quality -

9/10

Ergonomics & Portability -

10/10

Functions & Performances -

7.5/10

Ease of use -

10/10

Luxe Q pod & Flavor -

9/10